Possible GPS research (hobby) platform inspired by Namuru
This work is inspired by the GPS receiver stack (hardware, gateware, software) from UNSW first published in the 2006-2007 time frame known as Namuru. Technically, that looks like a wonderfully successful project! Props to Peter Mumford, Kevin Parkinson, Andrew Dempster, and everyone else on the team at UNSW! I see four main problems with carrying the results forward to a broader open source community:
The GPS front end chip they used (Zarlink GP2015) is now considered obsolete, and requires an unusual (35.42 MHz) SAW filter.
They used a closed source soft-core CPU (NIOS-II)
They used closed source upper level GPS software (GPS Architect).
The assembled hardware they made available ended up too pricy for hobby use (over US$5000).
This nascent project attempts to address those problems:
Switch to a Skyworks SE4150L GPS receiver chip, which sells for US$2.99 in single-units from Digi-Key, and uses a standard-frequency (1575 MHz) SAW filter. It's a single-conversion SSB receiver, where the GP2015 is a triple-conversion receiver.
Switch to an open source soft-core CPU: the LM32 seems to have the most "traction" at the moment, with full GCC support.
Use a generic FPGA development board, and only build an add-on module with the dedicated GPS receiver hardware.
I started off with an SE4110L as the GPS receiver, only to find the message from Skyworks that the SE4110L is "Not recommended for new designs - replacement is SE4150L." Good thing I didn't plan to use a 19.5 MHz clock! Both chips are in-stock at Digi-Key, with identical prices.
The interface between the GPS module and the FPGA development board is chosen as Digilent's Pmod. A double-high Pmod interface carries eight user-I/O pins, which can carry the GPS clock, two ADC bits, and an I2C bus for housekeeping. I can find several off-the-shelf FPGA boards with such an interface:
The initial configuration will have an SMA connector to which a GPS active antenna (such as is available from AdaFruit) is connected.
The essential components with which to build the GPS receiver are:
| part # | Digi-Key price | function |
| --- | --- | --- |
| (various) | $3.33 | SMA connector |
| SE4150L | $2.99 | GPS receiver chip |
| B9415 | $1.58 | 1575 MHz SAW filter |
| ASVTX-12 | $5.81 | 16.368 MHz TCVXCO |
To which I add a low-noise 3.0V regulator, passives, and I2C monitoring hardware. Still, the component parts cost is only US$33 in singles, US$28.20 in 25's. Board fabrication is likely less than US$3 in moderate quantity (~50). I'm less clear on the cost of assembly. If small-volume product-ized, I can hope it would sell for under US$100.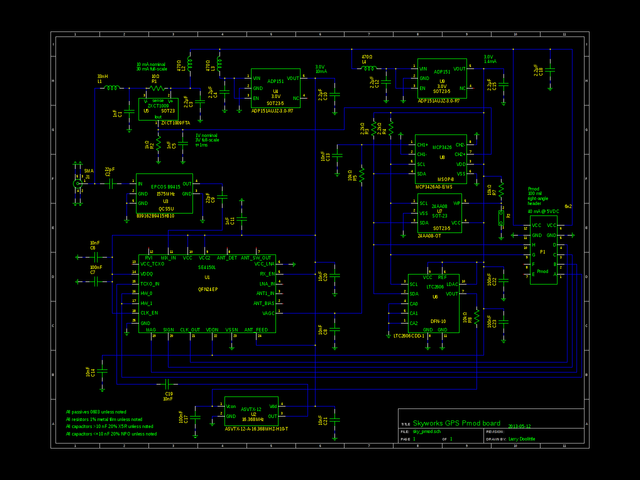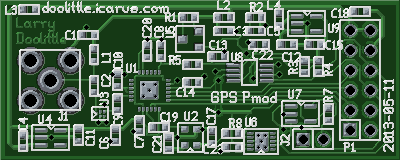 Board design files (using gEDA) (not cleared for fab). This tentative board design is two layers, 50.8 x 20.32 mm, where the width is as required by the Pmod standard: 0.8 inch. I'm a little concerned about choosing a Pmod pin for the clock signal that routes to an FPGA GCLK pin. Then again, at 16 MHz, I probably shouldn't worry.
Before building any hardware, I'd like to see the gateware and software start to come together. Ideally, it will all fit in an LX25 so I can use the XESS board. The GPS correlators from the Namuru project are not a problem: I have a version converted to portable Verilog (no LPM instantiation) that compiles on Icarus, synthesizes on Xilinx XST, and take up 45% of the fabric of an LX25 (but I can see how to reduce that significantly). The OHWR LM32 core takes 12% of the LX25, but I'm not sure how complete this is. That should leave plenty of space to experiment with FFT-based satellite acquisition and other ideas discussed by UNSW. Open source software that might be relevant to build on:
If and when this setup works, others will be free to complain that:
Unlike the Namuru, it doesn't include an IMU (but you're free to add a Pmod gyro and accelerometer; using that information in the correlator sounds interesting and helpful)
The FPGA board isn't open source (unless you choose the XuLA, and even then its design software isn't open source)
The FPGA tool chain isn't open source
But those are topics for another day.
---
Comments as of 2013-06-05: I haven't forgotten about this project. The board layout looks pretty much OK; the few things I might want to add are a power jumper to allow feeding 5V from a non-Pmod pin on the Pipistrello, and a test point or two. Mostly I'm trying to get to the point where I can build gateware and software to support this thing -- I really don't like building hardware that I don't have (potentially) working software for. That will also help answer questions like: do I really need external RAM, and will the design fit in an LX9?
---
Larry Doolittle
June 5, 2013